Having pun at the supermarkets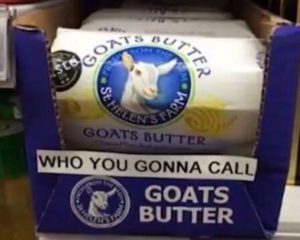 You gotta love it when people at the supermarkets know how to crack a good joke or come up with a really funny pun. I would buy the goats butter just because of the sign. Given the price, it might not be a bad idea to test it on the ghosts in your apartment. It will probably be much better than calling out the spirits in your basement. This sign can make shopping much more enjoyable instead of being perceived as a tedious, time-wasting task. I hope this pun haunts the person who came up with it forever.
The subtle turtle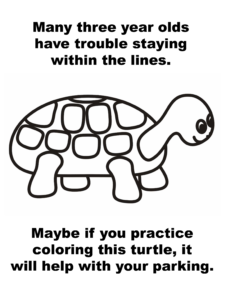 No, it is not a parking ticket but it is a teachable moment that a preschool teacher saw and took the opportunity to educate the driver. There once was a guy who couldn't park within the lines. Someone got annoyed and decided to teach him a lesson. Very subtly, they informed him that if kids could start to learn how to draw in the lines, then maybe he could learn how to park. Let's hope he gets the message and practices a bit. Perhaps the DMV should start at the basics when testing new drivers by including this coloring exercise somewhere in the process.