To all of us who loved the first two parts of cozy family drama Father of the Bride, the return of the main cast to the screen in a quasi-sequel of barely half an hour was a treat in these tough times of quarantine. The return of our beloved feels-good tale of a family of four, now with more members made all of us reminisce good old days when people could show affection and embrace the reality and each other without a care in the world!
Part I: with the shock of marriage
Those who are too young to know what the movie is revolves around a family of 4, with a loving couple, with a neurotic but caring George and calm, sensible Nina Banks, one daughter Annie, and a son, Matty. In the original film, we saw Annie getting married to Bryan McKenzie, to George's dismay as he still wants his little princess to stay with him.
Part II: with the surprise of two babies
In the sequel Father of the Bride, Annie comes home with the news of her pregnancy, which bums George to no ends as being a grandfather was not on his bucket list anytime soon. After going through a frenzy of proving that he is much younger, that age is just a number, Nina ends knocked up. Throughout the movie, George, Nina, and Annie make efforts for their kids while Gorge and Nina also prepare to become grandparents. By the time credits roll, Annie has a son and a little sister. 
Part III: the sweetest
Father of the Bride 3 is a sweet meeting between the family members as they go about their days in the confining pandemic of 2020. It starts as George being himself, tender and tough, sends them more than enough supplies to stay indoors.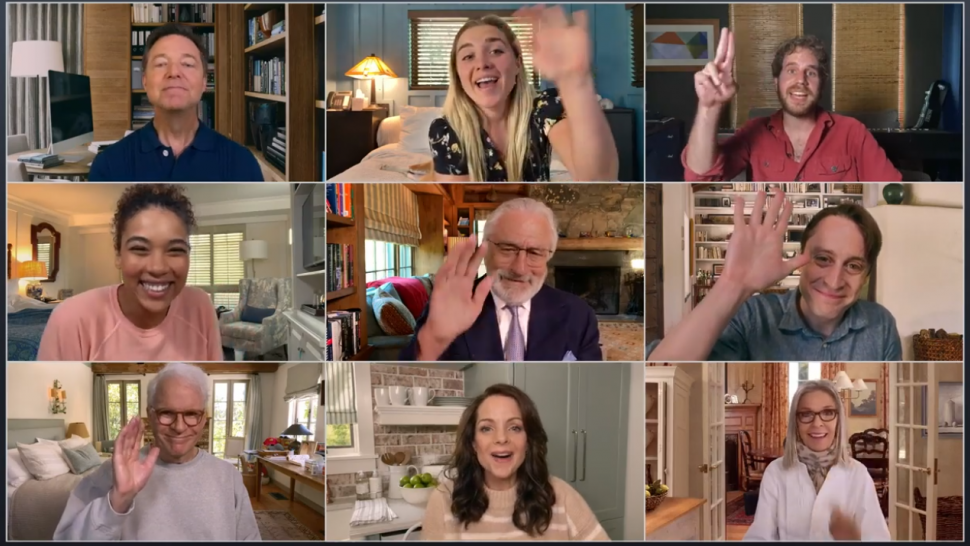 The beginning
The short film starts with Matty initiating a family meeting with all the family members. Everyone notices how he has shaved, which was a play on the actor Kieran Culkin who plays Matty's role. He went through a wild phase with a beard and long hair, and quite a stack of drug scandals.
The young ones born in the sequel have all grown up; they also noticed Matty's clean face and curious looks.
George entered the frame declaring that he misses his family. His peculiar calculations brought him to the conclusion that he needs to by the adjacent land to adjust his entire family for a physical dinner in 2020, extravagant, but worthy.
The wedding
Once everyone entered the frame, Matty announced how he called them to tell them that he will marry his fiancée, Rachel without further ado, seems extreme, but with the pandemic going on, we can all relate. He wed Rachel in front of his family and her father among tears and sweet cheers.
Frank Eggelholfer officiated the wedding in his most natural accent, which was humorously copied by Matty and Rachel in the tear-jerking ceremony.
The fathers in law exchanged congratulations, the couple took vows and said the most 2020ish "I DO" via video call. Rings were exchanged virtually, and eyes were wiped individually.
Father of the Bride 3 was made for a good cause
Father of the Bride 3 almost-a-sequel was a tender reminder of how all of us have come so far from where we left. It was made to raise funds in support of the World's Central Kitchen, which provides food for the homeless during the tough times of pandemic. If you want to explore more about Latest Drama and modern trends stay in touch with us at techvenge.