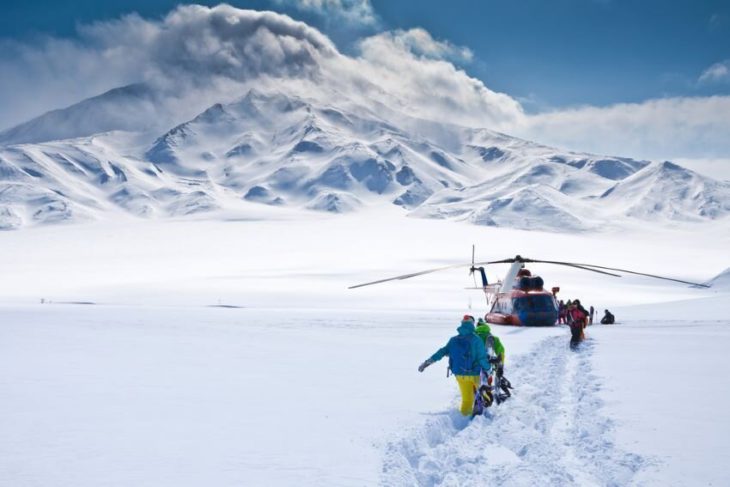 The thrill of speed is always fascinating and captivating for enthusiasts be it vehicular, horse, or blades over snow down mountainsides. Traditional skiing may be exhilarating to many, but wait until you experience the wild side of the sport that is off-trail, and completely spontaneous. Welcome to heli-skiing that only snow daredevils can muster the courage to challenge and, whose thrill brings a lasting afterglow. You will relish the chopper flight to the virgin powder slopes that you expect to conquer and the excitement before touchdown will get so high you will hardly contain yourself. No experience in conventional cable car lifts can compare to this as you circle high up and survey the snow slopes before swooping in for a wild run. This is heli-skiing. You access remote peaks with untracked snow and away from the ordinary at regular resorts to encounter nature for an intimate commune.
What is it?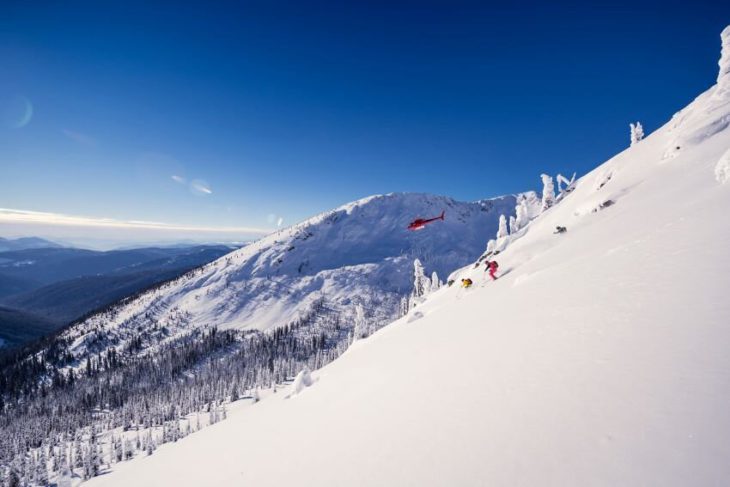 For your heli-skiing excursion, you need a chopper to lift you safely to selected snow peaks, an experienced guide, and of course your gear (blades or boards). The helicopter is integral to this adventure for access and emergency evacuation should the need arise. Unlike ski resorts that operate under controlled conditions with marked tracks and cable cars to lift you up the slopes, heli-skiing is a free run backcountry adventure on carefully selected snow slopes. Go for reputable operators with experienced guides and knowledge of the snow peaks as well as weather conditions in their area. This bit is vital to ensure your safety while enjoying your vertical flights on powder. The guide knows how to determine safe paths on peaks to avoid triggering avalanches and keeps a watchful eye on weather conditions to call in the skiers in time. Ensure the pilot has sufficient experience in mountain flying.
An adventure for all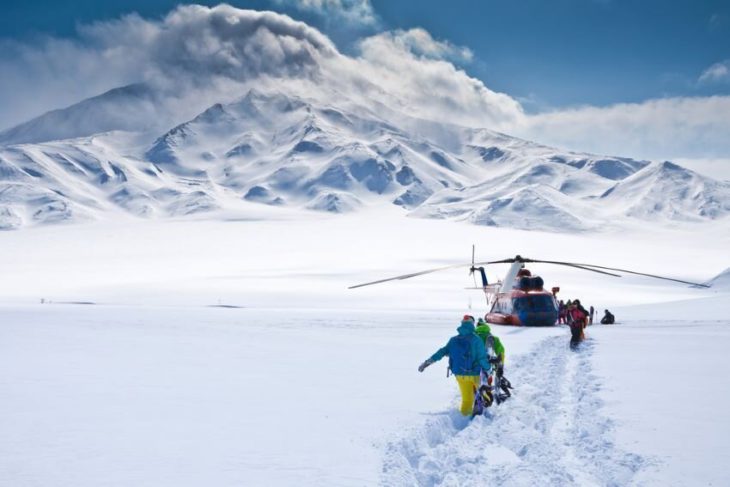 The beauty of heli-skiing is that it does not discriminate anybody. The sport is open to all, professionals and amateurs alike, provided you can afford it. Helicopter rides for any purpose are quite pricey and taken as a leisure package, will set you back a small fortune. If your wallet matches your enthusiasm, it does not matter your ability – the guide will take care of you. Be truthful about your experience when submitting your details to the operator as correct information can be a lifesaver. If you are a virgin on the slopes, the guide will not include you in a pack of seasoned daredevils, but instead break you in on a milder terrain. This way, you still get your thrill as you learn the ropes safely. Once you get the hang of it, the addiction to powder and wild heli-skiing will consume you.
Best locations for heli-skiing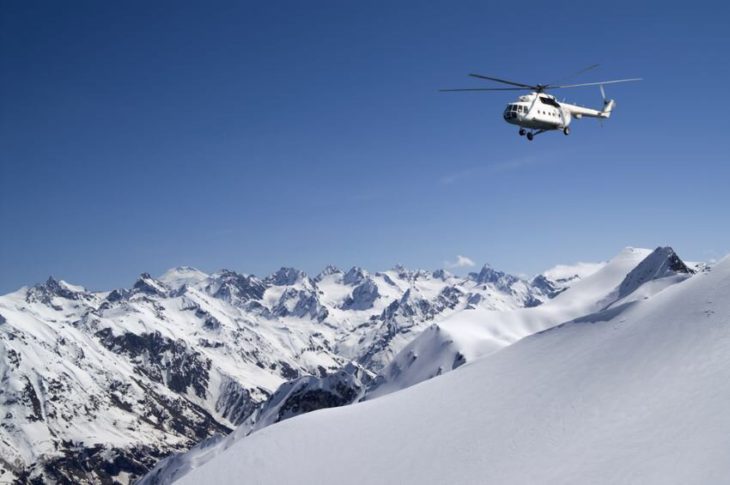 Heli-skiing is fast gaining popularity and taking its place beside the conventional resort skiing. Most ski regions offer helicopter flight packages to remote backcountry peaks with accommodation in the towns nearby. Alternatively, one can stay in remote lodges near the peaks of choice for faster access when weather conditions are optimum. The big boys with luxury yachts have an even easier access to these points as they combine a mobile accommodation and helicopter service at their disposal. Best locations for heli-skiing are never far from the traditional resorts and they follow a similar geographical pattern. From British Colombia through Alaska, Canada, the Swiss Alps, Japan, down to South New Zealand, you have an unlimited choice of pristine powder fields waiting for you. The determinant factor here is your departure location, preference, and size of wallet. Once you decide, go out there, and let the adrenaline flow.
How long for the best heli-skiing trip?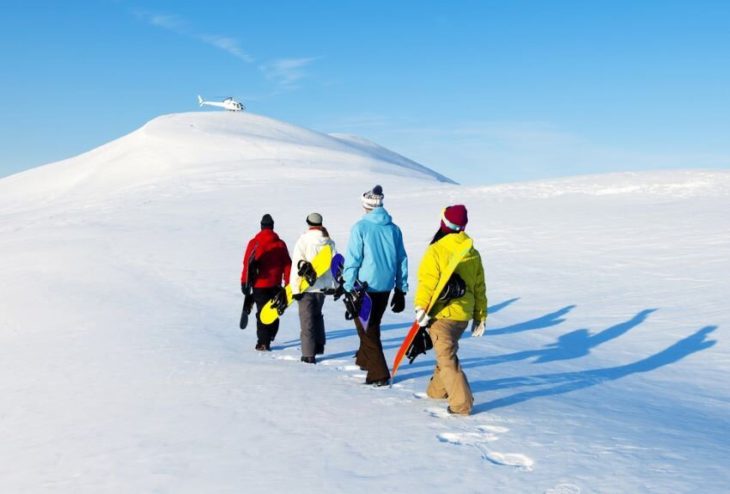 Heli-skiing is heavily dependent on weather and many a time, skiers suffer grounding due to stormy or windy conditions. Gambling with the weather makes trip planning a dicey affair for those with little time to spare. However, these adverse conditions mostly affect coastal locations more than the inland once. The latter are ideal for those seeking a one-day thrill as they can plan with certainty. If you can afford it and have the time, you may reserve a lodge out there for proximity to the peaks while you enjoy the winter wilderness. The alpines can be merciless and may ground your chopper for much of the time you reserved. Consider resorts or lodges that offer other snow activities that can keep you engaged as you wait out the weather. Choose your destination carefully and factor in all the unexpected happening.
Average vertical feet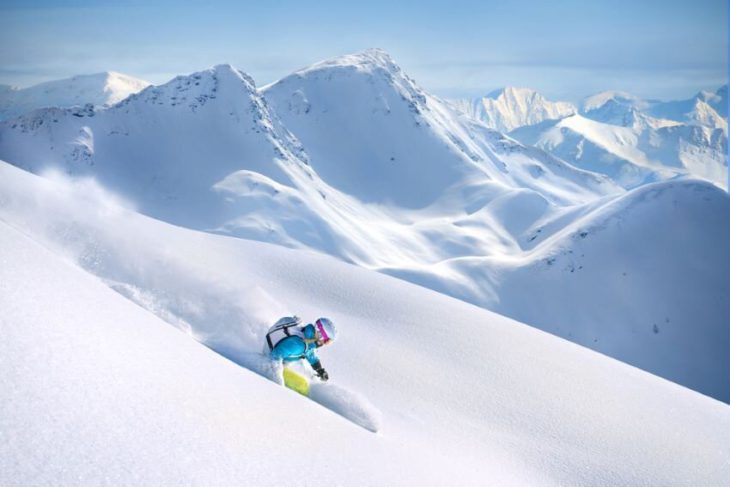 How do you ensure you get your money's worth of vertical feet in varying weather conditions? Operators offer different pricing packages for vertical feet that include guaranteed or unlimited options. The number of vertical feet you can attain depends on weather conditions and length of each run. For the guaranteed option, the operator offers a maximum limit of vertical feet in a day. If the weather conditions are favorable, the operator must ensure you achieve the agreed vertical feet. However, if you miss out due to bad weather, the operator refunds the difference the same way you will pay more if you exceed. The fun is in the number of runs you slice down the powder ridge and the more vertical feet you tally the more exciting the adventure. Work out this detail with your heli-ski operator before embarking on your adventure for a fulfilling experience.
Best time for heli-skiing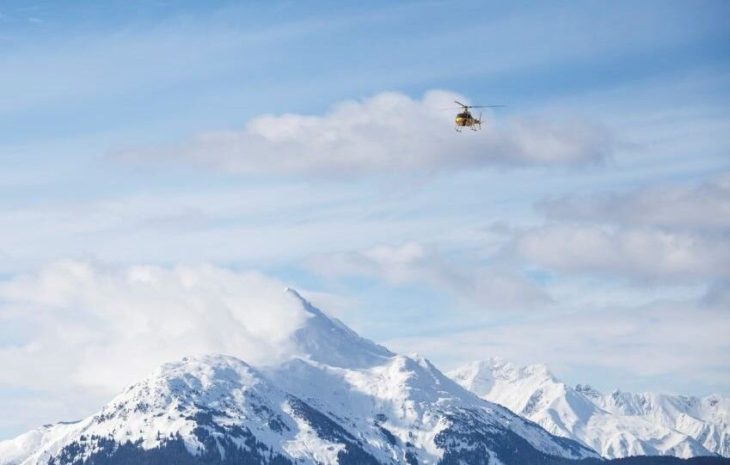 Optimum skiing conditions move with seasons in each geographical location. Before setting out on your heli-skiing vacation, consider the time and the destination if you hope to enjoy perfect powder carpets and cheery weather. The first quarter of the year January – March has favorable conditions for heli-skiing on the Canadian circuit and Japan when Hakuba gets its finest powder. During this period, go for enclosed spots in protected tree glades that offer some cover from harsh winter winds. The spring quarter carries the action farther north especially in Alaska and European destinations. It gets more fun by May in the Nordic fields as you can ski in the night since at this time the sun never sets! As the third quarter sets in and fields start to melt, swing your itinerary down south to Argentina or New Zealand. To avoid inclement weather and enjoy pristine conditions, timing is everything.
Adventure in Alaska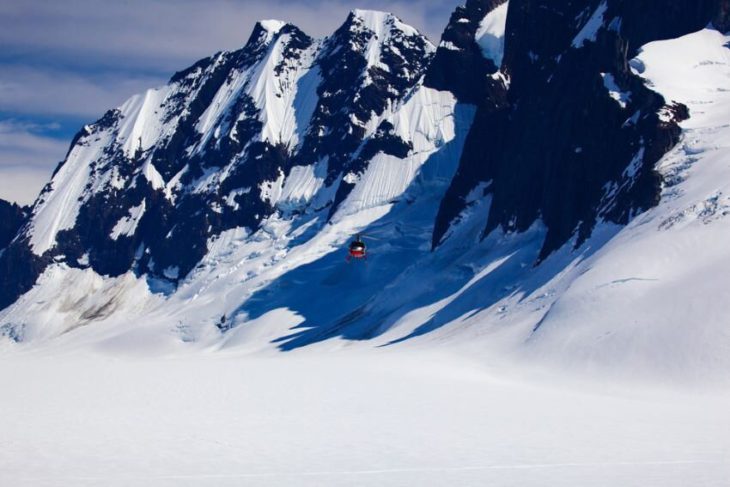 If you have not conquered the Chugach Mountain Range on the heli-skiing trail, you are yet to master the wild side of the ski-dance on powder. With some areas stocking up 700 inches of snow annually, you have access to unlimited acreage that guarantees you never cross your tracks ever. Heli-ski operators are many and so are beautiful lodges and a host of other specialized service providers in the industry. The majestic snow covered peaks provide a panoramic view that is breathtaking and one behold for a moment before swooshing downhill on your blades or boards. The Alaskan circuit incorporates a true tourist flavor to the heli-skiing adventure. The Tordrillo Mountain Range and the Denali offer magnificent spots for first class heli-skiing that will keep you returning for more. The powder fields here run into millions of acreage and are in pristine condition untouched by the crowds you find at conventional resorts.
Heli-skiing in Canada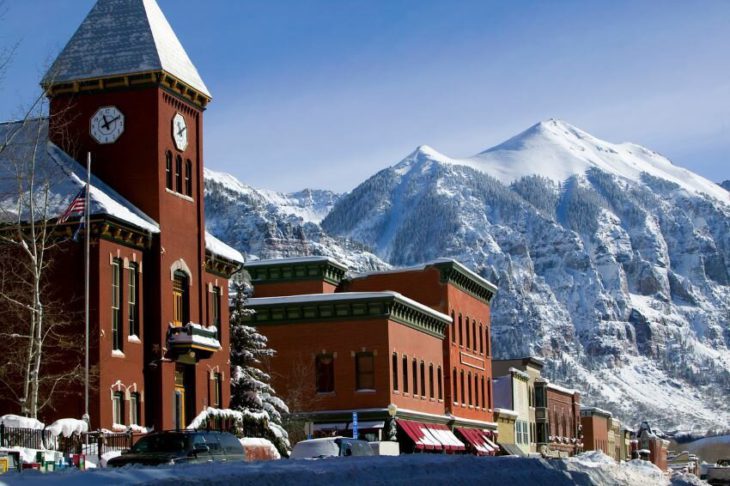 Canada is the birthplace of heli-skiing going back to 1965 when Hans Gmoser commercialized and brought it into the mainstream of recreational sport. The country has boundless acreage of snow and British Columbia, one of its most endowed regions has amazing heli-skiing resorts, conditions, and dry fluffy powder. British Columbia is one big mountain range that offers great terrain and spectacular peaks custom made for heli-skiing. It gets exciting in the Revelstoke nestled between the Rockies and the Columbia in south central, where you get the finest powder in Canada or anywhere else. To the southwest, you encounter the Whistler, another heli-skiing gem famous for hosting the 2010 Winter Olympics. Here backcountry buffs get exceptional terrain, open glades, glaciers, bowls, and steep couloirs that only the brave can challenge. December through to March makes the Canadian season with February-March marking the high point.
Colorado and Idaho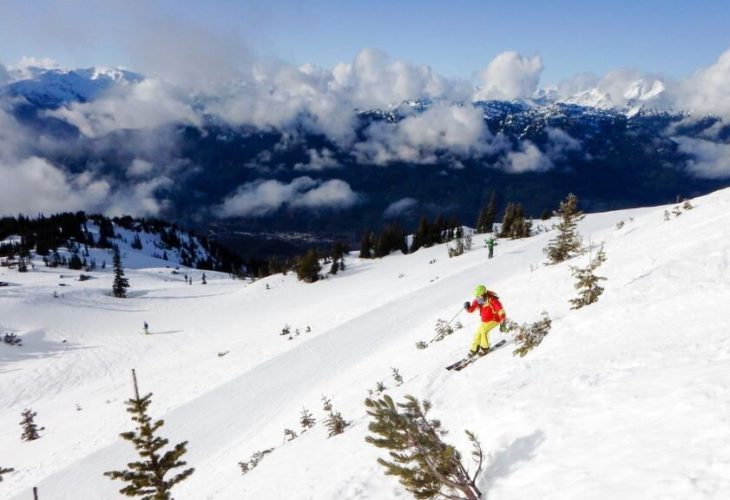 The State of Idaho is home to another fantastic powder paradise – the Selkirk Mountains. The great thing here is the moderate number of skiers, allowing for better runs and vertical feet. The range enjoys 120 inches of snowfall and offers excellent terrain, bowls, rock-lined chutes, and tree runs unlike any other. There is an offer for unlimited vertical feet with chopper flying time capped at one hour. The beautiful small Mountain town of Telluride in southwest Colorado is a ski haven you could explore. The town's single helicopter operator has been in the business since 1982 and is famous flying at the highest elevation of any heli-skiing excursion in North America. This guarantees a memorable experience and panoramic tour of the San Juan Mountains to add to the thrill of powder runs. Their standard one-day heli-skiing trip package has six runs of between 10,000 and 12,000 runs.
Japan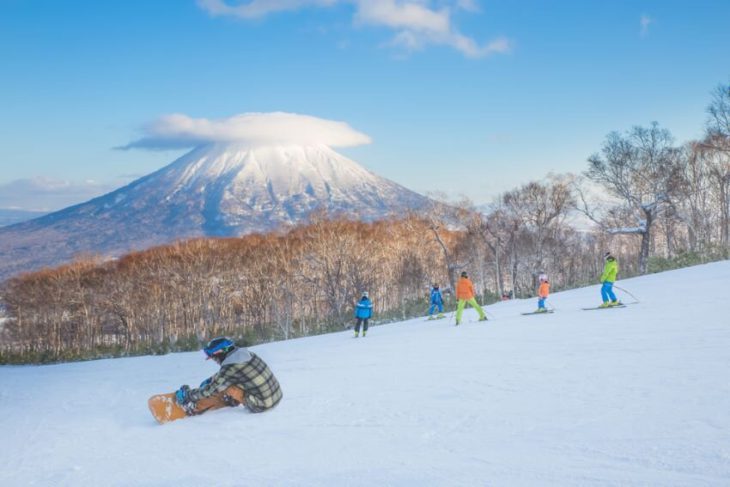 The Shiribetsu-Dake volcano in the town of Kimobetsu is the go-to heli-skiing destination in Japan. The slopes here average 20-40 degrees gradient, with a mix of steep chutes, Birch trees, and open glades. This circuit has easy access to the town of Niseko and some operators offer complimentary transport from accommodations to the helicopter pickup point. The guides are highly trained, strictly enforce safety protocols, and provide snow safety equipment. Night skiing here is a big deal and quite an adventure too. It means you have all the time in the world to chalk up your vertical tally. The Silver Birch trees are spectacularly spaced to ensure you draw the curviest lines in the powder while shielding you from snowstorms though you may need a snorkel. Your only limitation to fun filled powder runs is the constant threat of ominous weather that can turn at short notice.